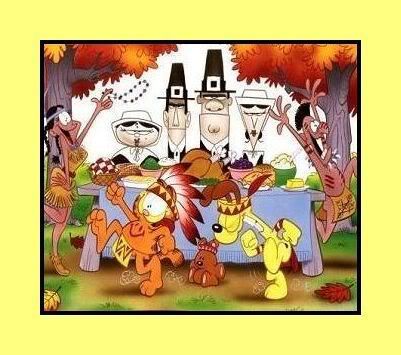 So Halloween is over and I'm already missing it. We took down all the Halloween decorations and put them back in storage yesterday. We still haven't found out if we won the contest or not though. I'm thinking we didn't but, that's okay. I was just stoked to get nominated at all. That was the first time that has ever happened. We live in a big complex and only 5 apartments were included in the contest so it's all good. At least it is to me anyway. My fiancé was a bit disappointed. He is a more competitive person, than I am, though so I know he is feeling like he could have done better.
Anyway, it's all over now so I can't help but start looking forward towards the upcoming Thanksgiving holiday. I love it for two reasons. The first is that you get to spend time with family without all the stress that comes along later with Christmas. There aren't any worries about if you bought the right gift or not or, the more likely worry lately, if you can afford to buy gifts for everyone. The second reason, and this is my favorite, is that it's the only day out of the year that I feel a complete and total lack of guilt about stuffing myself senseless. In between power naps that is.lol It should be especially interesting this year because we have to split the day between his family and mine. Hopefully, one day we can mix it all up but, until then we will just have to make do.
I was wondering how many, other people, out there will be celebrating numerous times on Thanksgiving? I'd love to hear all about it. :o)
Ehrle's Party and Carnival Supply, Inc.