So how many of you are still full from Thanksgiving? I know I am.lol It went by so fast. Someone stop the clock! Christmas can't already be a few weeks away can it? I guess it's time to break out the tree and decorations. You know what it also means though right? Why it's also time for Christmas themed movie watching parties. Now, I know everyone has personal opinions about what makes a good Christmas movie. I think most people prefer nostalgic movies that make them think of their childhood but, I personally want to laugh myself silly. Give me a comedy anytime. Wow, now that I really think about it, I have to say that most of the movies I own are comedys but, I digress.lol I just like to laugh. So whip out the hot chocolate and marshmellows, here are my top 5 favorite Christmas movies.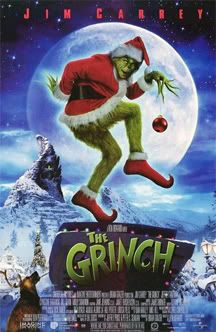 5. How The Grinch Stole Christmas 2000
I loved this book as a kid and I love Jim Carrey movies so this is a win, win for me.lol How could you not like it?
4. Tim Burton's Nightmare Before Christmas 1993
Now, I know this isn't your typical Christmas movie. In fact I think most everyone considers this a Halloween flick but, I love it. It centers around Jack Skellington, the Pumpkin King, who gets bored with Halloween. On a walk, through the woods, he discovers Christmas time but, doesn't really understand the concept of it. Now, he wants to bring Christmas to everyone, and is planning to take over the job from Santa. Some of the "presents" that get delivered are something else.lol
3. A Christmas Story 1983
"Ralphie" Parker wants only one thing for Christmas -- an official Red Ryder carbine-action 200-shot range model BB rifle with a compass in the stock. Too bad everyone, including Santa, thinks he will just shoot his eye out. Grownups can be such a downer can't they?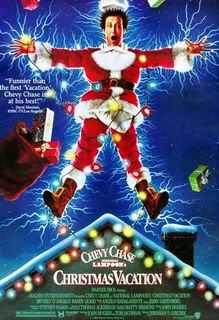 2.Christmas Vacation 1989
This is another movie with that lovable family the Griswolds. All Clark wanted was a fun-filled old-fashioned family Christmas. Too bad he didn't get it. He has the worst luck.lol
1. The REF 1994
This has got to be the greatest Christmas movie of all time. I absolutely love Dennis Leary in it. He plays a burglar, who gets abandonded by his partner in the middle of a heist, and ends up having to take a family hostage. He realizes real quick though that he got more than he bargained for when the couple's blackmailing son and despicable in-laws step into the picture. Before long they're driving him nuts with their petty bickering and family problems. He ends up having to play referee between everyone and it is just hilarious. You must watch this movie. :o)
Have you seen the preview's for "Four Christmases" yet? It looks hilarious. I have a feeling that it will be on my list next year. Hopefully, it will anyway.lol So that's my list of fav's. What do you think?
Ehrle's Party and Carnival Supply, Inc.